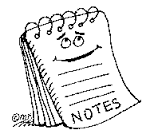 PARENTS
PLEASE call the Attendance line on ext. 16989 to leave a message if your child is not coming to school that day!
As stated in the student handbook,
all Homework requests must be made before 12:00 pm.
If you know your child will be riding a different bus or will be picked up after school, please send a note to the teacher in the morning instead of calling the front office on the day of the change. This saves a lot of interruption in the classroom.